2014 has been kind to
Ryan Tannehill
. His Dolphins may sit only 3rd in a crowded AFC East, but at 4-3, the team is performing at a higher level than the Bills (beset by injuries) and already have a win over the 1st-place Patriots under their belt. I watched most of that Week 1 win and came away impressed with Miami's young signal caller. I noticed tangible improvement over my
analysis from 2013
, and was curious to see if that would continue.
My primary concerns from that previous piece were A) a high sack figure (9.0% of dropbacks), B) a highly conservative scheme that averaged only 6.7 yards/attempt (one of the lowest in his cohort), and C) a mediocre completion % for someone who ran such a conservative offense. He was inconsistent handling pressure and could get stuck on reads, which explained the sack issues. That also explained the low yards/attempt, as he missed numerous open receivers downfield.
I like to look at a QB's film against a good defense, one that can generate 4-man pressure as well as play different looks. Unfortunately, the Bears are not a good defense, beset by a litany of injuries and an inability to reload at linebacker. They're 14th in pass DVOA and 18th in run DVOA (per
Football Outsiders
). But the buzz about Tannehill after this game was too much to ignore. Most of the time, when you hear superlatives heaped upon a player, the truth is somewhere in-between, and I wanted to diagnose this case with my own eyes.
A second interesting thing about this game is the now well-known Bears locker room incident regarding the offense's poor showing. Chicago QB
Jay Cutler
was playing a tough Miami defense (4th in overall DVOA, 5th in passing, 9th in rushing), but Jay received a lot of criticism, especially for turnovers. I wanted to see what, if anything, Cutler could have done differently.
This film analysis won't be a fair comparison since I'm trying to objectively analyze Tannehill's game while seeing what went wrong with Cutler (introducing an element of bias). Still, I enjoyed comparing the two QBs in my Locker vs. Dalton piece, especially when taking game flow and situations into account. Let's start with Tannehill on the Dolphins' first possession:
T1 – Reading right safety to right sideline. Good footwork and read progression but needs to feel his right guard getting dominated (frame 2). Takes too long and is sacked on a 4-man rush, had room forward and left in the pocket as well as to the sideline (2).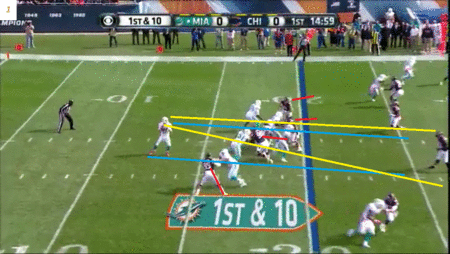 T2 – 3rd and 12 after the sack, reads deep right and checks to RB left – not a bad idea to get rid of the ball with linebackers playing off. Throw is accurate – I see a lot of checkdowns that are high with too much pace, like the QB is unloading. You'll see Tannehill's touch on short-to-intermediate passes throughout this post.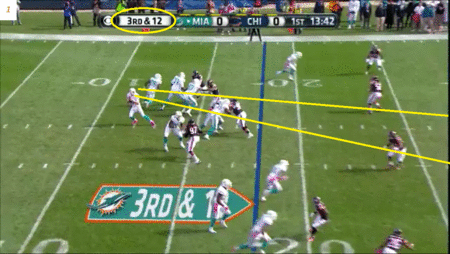 C1. Dolphins don't convert, so Cutler gets a shot. Miami LB not even looking at Chicago's best WR (1). Cutler takes advantage with a well thrown quick slant to Alshon Jeffery (2) that half the distance to a 1st down, a win for the offense. Cutler has an unorthodox slinging motion with his shoulders and hips open (1) but has the hand/arm talent to make accurate throws and is generally consistent with it.
C2 – After a screen to Jeffery gets them in a manageable 3rd down, the Bears try to take a shot – the safety doesn't get deep enough and Alshon has a chance, but the ball is just out of his reach. I like going for it though with their advantage at wideout and after having set the Dolphins up with two quick-hitting short passes.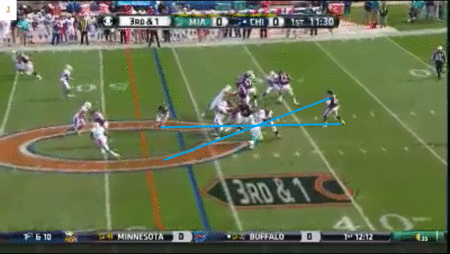 T3 – Dolphins get it back and run a read option. The defensive end collapses on RB (2) and the Dolphins have a pulling linemen put an arc block on the LB (1). Huge 15 yard gain shows Tannehill's athleticism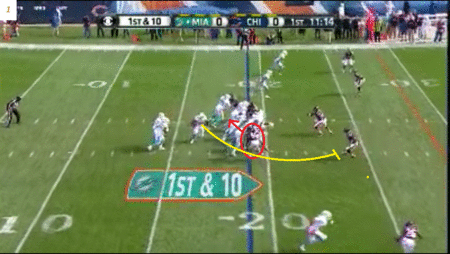 T4 – P/A, Tannehill does a 360 after a good ball show (1) on the fake and gets his hips flipped around to throw deep right to TE Chris Clay (2-4). Ball is thrown with touch and good location (5) and easily caught. Clay got a ton of separation from the LB in man coverage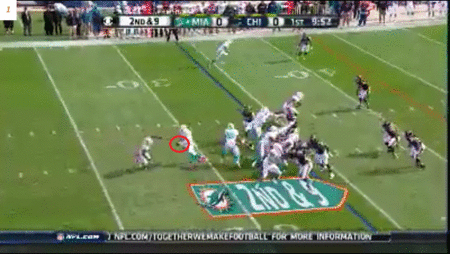 T5 – Read option fake into quick slant to slot – possible combo play. Tannehill doesn't have time to fully line his footwork and the pass is slightly behind. It's caught and in-time, but the location causes his receiver to fall down (4). Not sure if this is by design – sometimes QBs throw their receivers down to avoid big hits across the middle, but it looks like the safety was far enough away (4) to give his guy a chance to do something
T6 – Bears blow coverage on TE corner route. The corner follows the receiver inside and the linebackers are unable to keep up in coverage. Easy TD, good location on the ball (5, 6).
C3 – Short, effective pass to Forte to near the first down. Again, the motion is unorthodox with his hips open, but his arm talent allows him to still make throws in tight windows. The Bears had a lot of success early with Forte rushing and receiving.
C4 – Pick play to Brandon Marshall gets the first, but why is he 9 yards behind the line on 3rd/2 (1)? Great location on the ball, the Bears' running and short passing game seem to be on track. But look how Cutler is drifting away from the throw (2), scared of the rush.
C5 – near disaster on a poorly thrown screen that is a backwards pass and nowhere near the receiver. I drew a strike zone to indicate where the ball should have gone. Footwork is fine, he just slings it over his guy's head.
C6 – After that debacle, Cameron Wake is flying around the offense's right edge in an obvious passing scenario. Cutler does well to step up and check to a crossing Forte to get something.
C7 – On a long 3rd down that requires good protection, the Dolphins' right DE slips (1) and then gets up and sacks Cutler while the left tackle watches (2-4). It's a tough, obvious passing situation against a good front, but this is sour. Very sour.
T7 – PA with good ball extension (1), roll to the left. Nice throw against the grain, on-target and on-time (3), allows Mike Wallace to shed a tackle, step another tackler (4), and make it deep into the secondary.
T8 – Looking middle, nothing there, checks to RB left for a first down. Again, good job not overthrowing the RB and letting him work with the ball. Understands the situation and play book, knows to attack the LBs in coverage (2-3).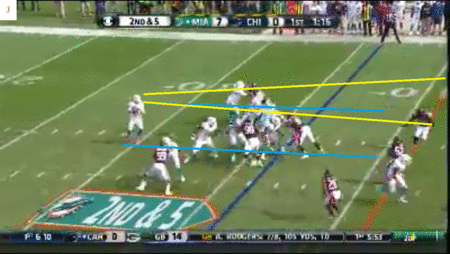 T9 – Great read and anticipation, not sure why the Bears are playing 8 yards off on 3rd and 6 (1). The throw is behind the receiver; he adjusts and makes a juggling catch for a first down as the Bears continue to struggle in coverage (2).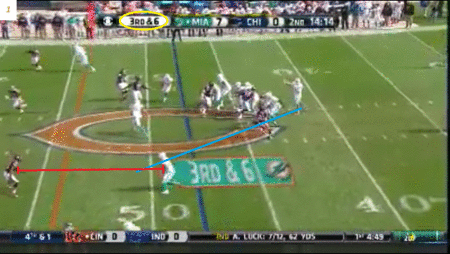 T10 – Another good checkdown to the RB with everyone in man coverage running the other way (1, 3). The Bears need to switch their defense - the Dolphins aren't going super fast like a Chip Kelly offense might, and Chicago should be able to adjust. The Dolphins are moving easily – only needed the Chicago 35 to gain half the distance to a 1st down.
T11 – Designed roll left on 3rd and 7, looks sideline then at last minute tries to go deeper downfield (2), but takes too long and is sacked to bring the Dolphins out of field goal range. Tannehill has to have an internal clock and sense when he needs to throw it away and take the points. The ensuing 52 yard FG is no good (5).
C8 – In trouble almost immediately (1) Cutler tries to flip it backward to Martellus Bennett, a dangerous, dangerous move. Three straight disastrous plays for the Bears.
C9 – cutler recovers and puts nice touch on the ball to get around jumping defensive linemen and complete to a wide-open Bennett.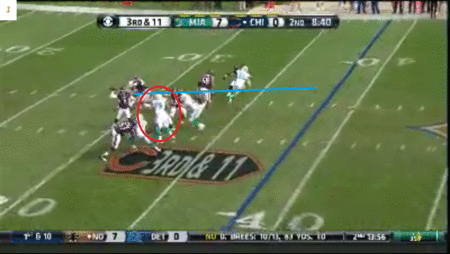 C10 – Takes a shot deep to Alshon Jeffrey. Cutler puts nice touch on the ball despite getting hammered afterwards (3). Jay lets his big receiver go up to get it, but Alshon tries to trap the ball against his body rather than reach up with his hands, allowing the CB to get in and deflect the pass (5).
C11 – Next pass, Cutler has a clear path to a 1st on 3rd/2 but goes deep. Cutler either does not recognize zone coverage or has a huge miscommunication with the receiver. He throws right to the safety covering for the corner. Perfectly thrown pass to safety allows for huge runback.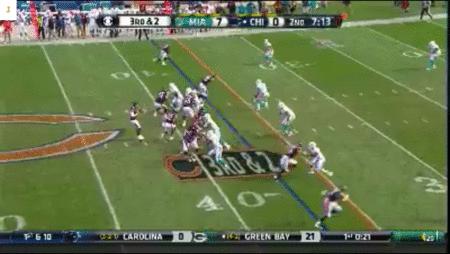 T12 – Well thrown deep dig into the red zone. Max protect, 2 receivers against 3 DBs, has time and finds the opening.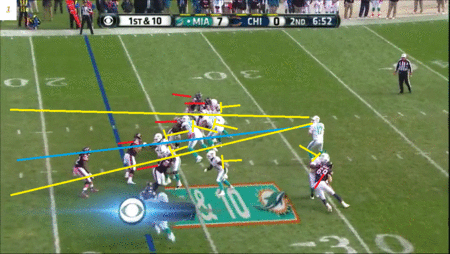 T13 – Great protection against 5 man rush, works left and reads back to right, good footwork, location, and touch on tough throw to Wallace in the back of the end zone. Wallace was very open.
C12 – next Bears possession, Cutler tries a horrible, back foot throw on 3rd down that's almost picked.
T14 – Another good decision on the read/option keep. The defensive end doesn't even fully commit (1), Tannehill just outruns him (2).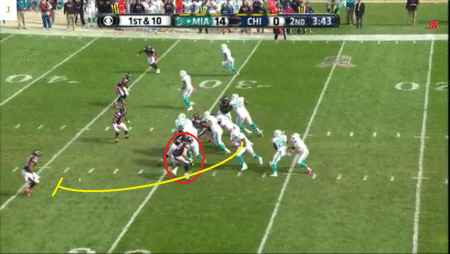 T15 – Good form and long completion on a comeback to the far hash, something NFL offenses generally try to avoid. His shoulder is up in frame 1 - that's how to get power on longer passes without sacrificing accuracy. By leveraging the oblique muscles on the left side of the body and throwing with a steep angle, Tannehill gets forward force without as much side-to-side sweeping action.
T16 – Tannehill's first incompletion of the game is an out to the sideline that had to be thrown close to the boundary. Thrown with 55 seconds left in the 2nd Quarter.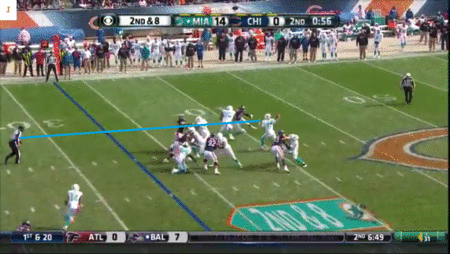 T17 – After the incompletion, Tannehill pumps and takes a sack on 3rd and 8, again punching the Dolphins out of FG range. 3 linemen all get beat on the 5 man rush (1) – Tannehill has to sense this (esp. since they were right in front of him) and get the ball out.
2nd HALF
C13 - Why is Cutler 10 yards behind the line on 3rd/4 (1), and why is the crossing route 2 yards short of the first (2-3)?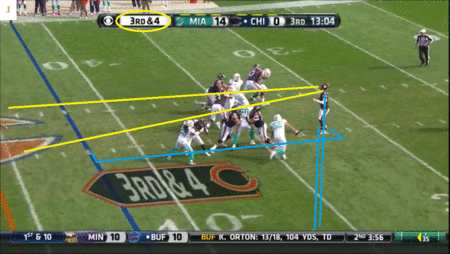 C14 – Next possession, Cutler again forced to retreat (1-2), making the pass harder; it's batted away by good coverage.
C15 – P/A deep pass to Brandon Marshall is thrown accurately and in time despite the left tackle getting pancaked (2).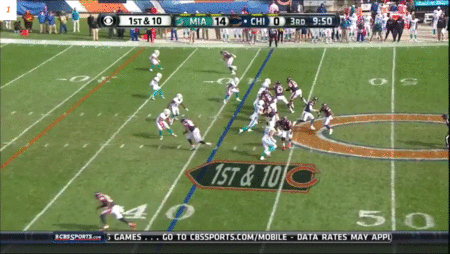 C16 – Cutler draws the defense to the right with his eyes (2-3) while Matt Forte (!) leaks out untouched on the left. It's still only a 14-7 game.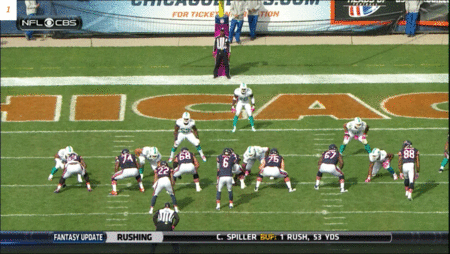 T18 – Slant thrown slightly behind receiver, barely gets first down. The Dolphins go on to complete a bunch of short passes with this helping out:
T19 – Linebacker reads Tannehill's pass and makes an incredible play to bat it in the air. The loose ball hits another defender in the face, but falls incomplete. Luck.
T20 – After another completion to Clay and a 3rd down run stuff, the Dolphins faced 4th and 1 on the Chicago 39 and smartly go for it. Tannehill gets 30 yards on a zone read – no push at all from the Bears line (1). Zone reads are hard on the O-line because they have to block through the mesh point rather than hitting holes hard. The 'Fins ran it into the end zone from there.
C17 – More Cutler running for his life. Sack fumble = FG for the 'Fins.
T21 – I point out when QBs don't make life easier on their receivers on short stuff like this, so needed to point out how this ball turns his guy upfield in a position to get YAC.
T22 – After a CHI score (2 big plays: 24 Yard Forte catch + run and Alshon Jeffery PI), Miami trying to kill clock. Great mechanics on a pass to a comeback on the left does the trick.
T23 – Read option fake, throw to WR screen on left (looks like a Chip Kelly packaged play) gets the 'Fins to the 4. They can't punch it in, but a FG effectively ends it with just a couple minutes left.
CONCLUSIONS
Jay Cutler
I think it's fair to say that the offense's woes weren't entirely on Jay Cutler. Yes, he has to protect the ball better - the pick (C11), near-pick (C12), failed lateral (C5) and pitch to Bennett (C8) were especially bad. There's no way to sugarcoat that. But Cutler was running for his life all afternoon. It's harder to not fumble when you're not getting hit. By the middle of the game, Cutler was visually checking the line for holes and getting antsy stepping forward into the pocket. The problem is, I don't think this is something that is going to fix itself as the season goes on. The Bears aren't just injured on the offensive lines, like the Eagles - they just aren't very good. And despite the stats saying that Cutler is actually a better passer under pressure, that wasn't the case this year and won't be a sustainable component of a playoff run. For them to even make the playoffs, they need to improve their blocking ability, and commit to Forte and the short passing game and stick with it. Still, this is a team on the outside looking in.
Ryan Tannehill
This game showed tremendous improvement for the Dolphins' young QB. I know he's been inconsistent this year and this defense has been porous over the last couple of weeks, but the performance was impressive. Some strengths of his include:
Touch and location

on short and intermediate routes. Doesn't try to gun the ball, and puts it in a position where his receivers can do something after catch (2, 4, 7, 8, 15).

Correct reads. Made good quick decisions when his first read is open, one of his strengths from last year (6, 10).

Read progressions.

Not a one-read QB, can get to second and third options organically. Shows mastery over the new playbook (13). Will need to improve how fast he cycles through while sensing pressure.

Athleticism

Combined with a larger frame and a lack of injury history, makes him a dangerous runner (3, 14, 20), someone the Dolphins can actually call plays for. Good throwing on the run, too (7). ESPN QBR has him 3rd in running value. Durable.

Play-action. Good extension on fakes (4, 7).

Good mechanics. Something I also noticed last year, Tannehill consistently lines up correctly to throw and it shows.
Pocket presence.

Tannehill takes too many sacks in situations where he has the opportunity to throw the ball away. Not able to feel where the rush is coming from and where there's room in the pocket (1, 11, 18). Tannehill has time on all of these plays and shouldn't take sacks to push them out of scoring position. In contrast to his running rating, ESPN QBR has him 23rd in sacks.

Anticipation. On longer passes (over 10 yards in the air) to moving targets, has a tendency to throw slightly behind the receiver (5, 9, 18). Accuracy is good when throwing to stationary targets, like on curls or comebacks, but he needs to give his receivers better balls on slants and seams.

Game management.

This is not something he was poor at, and he made some nice conversions on 3

rd

and 4

th

down. But he needs to understand down and distance a little better, such as when he's in FG range and how that impacts his decision-making process.

Zone coverage.

The Bears played man coverage almost exclusively this game, something they have done since the Lovie Smith era. Man coverage makes a QB's job easier

if

his receivers can beat coverage. Zone coverage is more difficult, requiring the QB to understand complex zones, the coverage ability of players within those zones, how many safeties, who's underneath, if it's pattern match or straight-zone, etc., etc., etc. The Bears failed to change the look of their defense and paid as Dolphins receivers and especially tight ends repeatedly beat DBs and LBs in coverage. The good news is the Tannehill should have the physical tools and accuracy to beat zone coverage, I just have to see it.
Watching last season's film, I disliked the Dolphins for a vanilla, short-passing scheme that was surprisingly turnover prone. Tannehill himself didn't look comfortable facing pressure at all. It's clear the Tannehill is better and more confident throwing downfield and hitting targets in the middle of the field. I wrote after the Chargers win that he could
develop into an average starter
this year. He's certainly done that (and more) and deserves to be the Dolphins' starter for the near future. His numbers have improved almost across the board, and even his sack rate has declined from a deplorable 9.0% to 6.4% over the first 7 games. For him to lead the Dolphins to contention, he'll have to deal better with pressure, throw even more accurately. and show the ability to beat the NFL's most complex and talented defenses.
You make the call.